This years edition of Swedens leading international performance art festival, Live Action Göteborg, will take place, from May 28 to 31 2009 at the Museum of World Culture. The international avant-garde of contemporary art will come to Gothenburg when Live Action Göteborg presents the work of performance artist from around the world. With its 23 aritsts coming from besides Germany, Northern Ireland, Norway, France, the Netherlands, Switzerland, Spain and Sweden, but also from Chile, Burma, Vietnam, Mexico, Canada, China and this years country of honour Singapore, Live Action Gothenburg occupies the place as one of northern Europes most exciting performance art festivals. If the notion world culture can signify an attitude, a way of living, a way of thinking, is World Culture in performance art a way to be, to function, and during Live Action Göteborg, simply an act.
It is also with great pleasure that we can announce that this years festival will be presented at the Museum of World Culture . With this years edition we have chagned not only the outlook and the season but also the venue. However, the artistic quality will still be on the same level. Yes, we are very pleased to be able to present a mixed program of high quality, that we are convinced will fascinate and stimulate a hopefully large audience. Welcome to Live Action Göteborg 09 !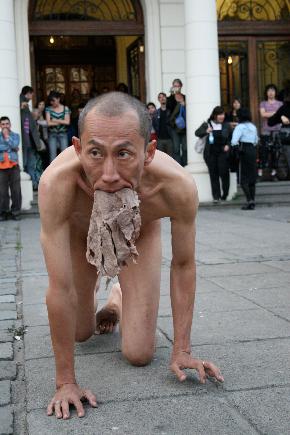 Lee Wen. Dog man domesticate.