This years edition of Live Action Göteborg presents 20 international performance artists. It starts at Valands Konsthögskola on Thursday, October 9th, and continues at Göteborgs Konsthall with live performances in the evening on the Friday 10th and continues the next day Saturday the 11th at the same prestigious location. The festival ends the 12th in the afternoon at Göteborgs Konsthall, with a video projection by Erkki Pirtola and a discussion on "The Finnish Wonder : performance art in Finland".
For more information on the artists and to get the full program please go to the specified submenues.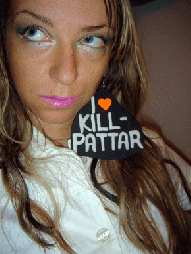 Joanna Ryttel. I Love Killpattar.