Born in 1953 in Moss, Norway. Lives and works in Helsinki. Roi Vaara is the internationally best known performance artist in Scandinavia. His work emphasises an aesthetic discourse between the artwork and its specific place or situation, rejecting the objectification of art destined for a vacuum.
So far, Vaara has carried out about 300 unique performances. His work has been presented at some 200 international exhibitions/festivals in more than 30 countries. He has exhibited throughout Europe, as well as in Canada, Mexico, the USA, South Korea, Thailand, China, Cuba and Japan.
Vaara worked for Künstlerhaus Bethanien's International Atelierprogramm in Berlin 1997-1998. Since 1988, Roi Vaara has been part of Black Market International, an international, collaborative collective, whose work uses performance art as a simultaneous form of communication. BMI has performed throughout Europe, in the USA and in Thailand, for instance, at the Kassel Documenta (1987 and 1993) and at the EXPO 2000 World Exhibition in Hanover, at Resource Kunst (1990) in Budapest and EDGE 90 in Glasgow and Newcastle, and at Franklin Furnace's Asylum in New York (1991).
1998-99, Black Market Network Meetings in Linz, Dublin and Frankfurt were important events for artists, students and researchers on the genre.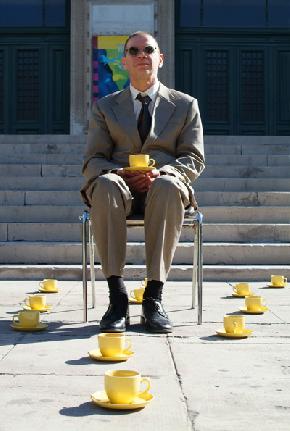 Roi Vaara. Still Life. Infr'Action - Festival International d'Art Performance. Sète 2005.