Född 1959, bor och verkar i Göteborg.

Joakim Stampe är konstnär och projektledare för Live Action Göteborg. Han har verkat som konstnär i över 25 år, och har under senare år fokuserat sitt konstnärsskap på performance. Han har deltagit i performancekonst festivaler i Polen, Finland, Frankrike, Italien, Thailand, Singapore och Kina.
Hans konst behandlar vanligtvis sociala och politiska. Med en filosofisk kritisk attityd ger han publiken och betraktaren en bild av den värld som omger oss. Vare sigh an berör mordet på Olof Palme, "kriget mot terrorismen", det svenska välfärdssamhällets sönderfall och neo-liberalisering.
Joakim Stampe arbetar genomgående med med motiv från vår nutida historia. Hans performances är starkt visuella även om han även arbetar med ljud och i hög grad interaktivt med publiken.
Sedan fyra år tillbaks leder han tillsammans med sin bror Jonas Stampe, Live Action Göteborg, och spelar sedan dess än en mer aktiv roll på den svenska och nordiska performancekonst scenen.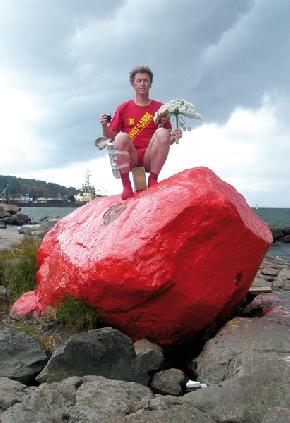 Joakim Stampe. Only for the dead, fuck the rest. Röda Sten. Göteborg 21 juni 2008.