Born in 1969, lives and works in Lengede.
Helge Meyer has been a member of Black Market International since 2000, as well as working solo and being involved with System HM2T.
Helge Meyer formed the group System HM2T (with Marco Teubner) in 1998. Helge Meyer and System HM2T have performed at festivals in Finland, Italy, Japan, China, Russia, the Philippines, and Canada.
As a researcher Meyer is interested in questions of pain, duo work, cooperation, and the history of images. He has performed in Europe, Asia, South America, Canada and the USA. Meyer has a diploma in Cultural Studies (University of Hildesheim, Germany).
He teaches performance art workshops and theoretical classes at University and High School. Since 2008 he has a PhD in Art Science/Art History from the Academy of Fine Arts in Stuttgart. His dissertation about the image of pain in performance was published as a book in 2008.
For more info, please click here .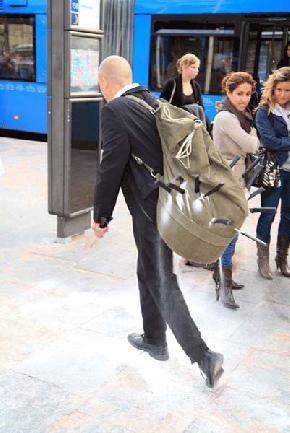 Helge Meyer. Live Action Göteborg. 2006.