Born in 1967, lives and works in Mexico City.
Elvira Santamarias' work currently focuses on intervention and process art. Since 1991 she has presented her performances in public spaces, museums, galleries and theatres throughout the world, including Mexico, Canada, the Caribbean, USA, Europe and Asia.
She has been a member of Black Market International since 2000. In 2001, she initiated and organized the event "Acciones en Ruta (Actions in Route), she curated and coordinated the "Mexico-Japan Performance Art Encounter" in 2002, and she is the presenter of the International Performance Art Festival of Yucatan.
For more info click here.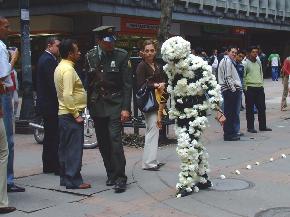 Elvira Santamaria. 48.480 blancos y uno rojo". Carrera 7a, entre calles 13 y 14. Bogotá, Colombia 2007. 3 hours. photo Eduardo del Corral.