The theme of this 4th edition of Live Action Göteborg is focusing on the notion of survival. In a time of history where society are living through several different kinds of crisis, whether it is financial, climatic, employment or global poverty, the question about survival is for the population in the West maybe more actual than ever. For the majority of the worlds population it is a reality that most people try to find answers to.
Most artists are used to live with the question of how to survive materially, and in the same time continue an independent artistic creation. It is a question that also finds different answers in the world of performance art.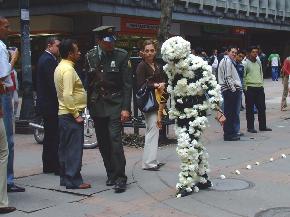 Elvira Santamaria. Bogota. 2007.